Meet Our Staff
Here are the people that bring you latest in motorsports news and photos.
Vince Bonfigli
Vince started reporting Auto Racing on 'The Afternoon Rumble', hosted by Tom Shaw in 1998. After his tenure on 'The Afternoon Rumble', Vince decided it was time to start his own show dedicated solely to auto racing in 2002, which continues today and can be heard every Monday at 6 pm on WNJC-1360AM radio. In January 2006, Vince was named Sports Director of the station. July 2007 an additional honor was bestowed on Vince as he was selected to Kipling-Global Registry Whos Who of Executives and Professionals
Vince's interest in racing stemmed from being dubbed 'Goggles Paisano' or 'The Richard Petty of Bogue Field' after taming the notorious Nine Mile Road that connected Havelock NC with State Rte 24 during his four year stint in the Marine Corps. His driving prowess is still legend at the NC Marine Base. At that time (the late '70's), racing on TV consisted mainly of a re-broadcast of the Daytona 500 in July, The Indy 500 was the only constant for TV coverage, so his interest turned to his first love, hockey. Fast forward to the 1980's when ESPN made NASCAR a household word and catapulted the sport to it's popularity of today. His girlfriend at the time (later to become his wife), rekindled his interest in racing. Together they attended several NASCAR events and the racing bug was imbedded in his blood for good this time. His association with 'The Afternoon Rumble' afforded him the opportunity to cover NASCAR events and report them to the masses.
Vince now produces and hosts Garage Talk Live on Monday evenings, as well as having podcasts of the show on his website at www.garagetalklive.com and on his Facebook fan page as well.

Fast Facts
D.O.B. - 11/9/58
Marital Status - Married to Marianne
Favorite Driver - Dale Earnhardt Sr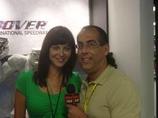 Tammy Auman
Tammy is your average everyday girl. She is a mom, a girlfriend, works full time, is a volunteer firefighter/EMT, K9 Search and Rescue and now retired multi time champion Pro-Am Motocross racer. And somehow in her spare time, she covers the NASCAR Series events on the East Coast and handles the fan page for Grandview Speedway and coordinates many activities there.

She was born into a racing family. Her first race she ever attended was at the Reading Fairgrounds Speedway, when she was only a few weeks old. She grew up at the local short tracks, and by age 11 she was a program seller. A few years later she started to write driver interviews occasionally for the Grandview Groove track program. At age 16, she began to crew on a Latemodel team, which she continued to do until 2002 when she became involved in motocross. Her first motocross event was Labor Day Weekend 2002, in which she brought home 1st place. In 04, 05 and 10 she was the Raceway Park Women's Class Champion and the 04 North East Classics Regional Champion. Tammy hung up her motocross helmet in 2013 and retired from full time competition but still enjoys hitting the tracks just for practice days when time permits. She says the biggest accomplishment of her career in motorsports came true on September 8, 2013 when her sweetheart, Jason Neidlinger let her borrow his Sportsman to compete in the Powder Puff at Big Diamond, in which she brought home a solid 2nd place.
Journalism and photography are second nature to Tammy. She is at home sitting on the pitroad wall at a NASCAR race, and you will generally find her there during any event she is attending. She tries to bring fans a new perspective on the sport, with her behind the scenes stories and photos to show what goes on in the areas not generally scene by the average fan. She tries to portray the true and personal side of drivers and show the fans that the drivers are just like anyone else, except they have the privilege to drive a racecar. She likes to be hands on in her reporting and take you, the fan, up close and personal to all the action that makes this sport so popular.
Fast Facts
D.O.B. - July 31,1978
Marital Status – Dating Jason
Children - Patrick & Adam
Favorite Drivers – John Giesler, Kyle Petty & Tony Stewart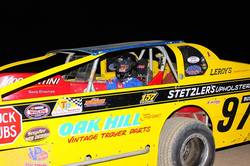 Gil Smith
Gil is a call-in guest on Vinces weekly show Garage Talk Live and is a writer and Senior Photographer for this and other websites. Gil is the President and CEO of Double Apex Enterprises, LLC a firm focused on the racing industry, photography, and business operations. Double Apex has been a contributing image maker for Razzle Promotions in support of their contract with Nikon and LiveNation; The Studio Theatre here in Washington; Various entertainment venues; and the DC Fashion News.
I grew up roving between Rhode Island, Baltimore, Manhattan, Pittsburgh and Vermont. I am a guy that chases racing whenever possible and saw a lot of it around the world during my twenty year stint in the Navy as a flight paramedic, aviation survival instructor, and hospital administrator. I tried to fuel my racing habit by jumping to the private sector working at American Management Systems but the corporate life was not for me. In 2002 I returned to government and joined the Bush administration, first serving as an Associate Director at the Peace Corps, then a short time as Deputy Chief of Operations at Executive Office of the President (yep that house on Pennsylvania Ave) and then was fortunate to finish out my tour of duty as the Deputy Assistant Secretary for Administration at USDA. Now I own and operate my own business and life is good.
As for racing if there are more than one of anything going in the same direction.. its a race for me! Involved in racing for as long as I can remember as a fan and participant going to the dirt bike races on the backyard and farm tracks of New England and Maryland with my Dad, Auto-crossing a 68 Triumph Spitfire in Northwest Florida, and on to driving the Hendrick 5 Car at Charlotte for 25 great laps. Ive been a gear head all my life too, there are pictures of me and Dad working on his Sunbeam Alpine back when I was barely walkin and talkin and Ive done several frame up rebuiilds. Today my garage always has a BMW inside and I am proud to own one of the few 850s left in the world. Racing is in the family and weve been racing at local ovals as long as I can remember. My cousin Bobby Ballantine was a racer from Ellicot City Maryland who was a contender in the Grand National Series back in the 70s and now my distant cousin Larry Barford is an up and coming driver in the NASCAR Truck Series, ARCA and the Nationwide Series.
I race on the water too in my NY-36 sailing yacht Bad Latitude and have been racing yachts on Chesapeake Bay for the last 15 years. Today I am a fan of all the NASCAR Series (Roush), ARCA (Venturini Motorsports), Formula 1 (BMW Sauber), IndyCAR (Rahal-Letterman), and the DTM series where my pal Katherine Legge is driving the Audi team car. My main driver across all of racing is Juan Pablo Montoya. I grew up with a camera in my hand too. My Dad was an avid photographer and passed it along to me. Ive dabbled in sports films, still photography, portraiture, aviation, and even shot a few weddings in my day. Sports photography, specifically racing photography is my favorite. I use exclusively Nikon equipment and shoot on the digital platform.
Broadcasting is also in the blood. I grew up with my Grandfather who was the VP of Westinghouse Broadcasting and had a major hand in the advancements we all enjoy today with radio and television. I started on television in high school with our local cable news broadcasts, moved on to radio in college and doing DJ events, jumped in the studio at WTKX (TK 101 FM) in Northwest Florida and now with Garage Talk as a call in guest. Ive done some voice over work, training film voice-ins, and occasionally do some emcee voice from above work for various events around Washington. Let us know what shots youd like to see and Ill try to make it happen when we go to an event. You can see all my photo work at the Double Apex website http://photo.aapxllc.com and right here at Garage Talk Live.com
Fast Facts
DOB 12/12/60
Marital Status: Single Children: Trevor
Year involved in racing: Lifetime
Favorite Driver(s):
Matt Kenseth, Juan Pablo Montoya, Katherine Legge