SHOW LINEUPS
HERE IS A LIST OF OUR WEEKLY SHOWS AND A LITTLE BIT ABOUT EACH ONE
The Garage Talk Line up has several shows that help us be able to cover all the news and happenings in the world of motorsports. Here is the place to learn about each show and see what they have in store for you.
GARAGE TALK LIVE - MONDAY EDITION
Ths is where it all began, Garage Talk Live. Vince is joined by various guests each Monday evening from 8-10 PM EST. Miss Sprint Cup's have called in to chat, as well as drivers such as TJ Bell, Kenny Wallace, The Force Family and many more! Tammy is normally lurking in the chat room and watching the board to make sure your calls and messages get through to Vince. Tune in or give Vince a call to tell us who you are picking to win the upcoming race, or to let us know what you think about the current events and topics in motorsports!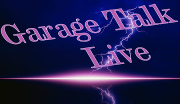 LIVE REMOTE BROADCASTS
Going to a race? Well make sure you check out our page for a list of Live Remote Broadcasts that we will be hosting. This was added in the end of the 2012 season and the 2014 schedule is already being worked on! Stop by and join your favorite personalities at the track, you never know who you may run into!